e-People: The People's Online Petition & Discussion Portal
"Visit www.epeople.go.kr: For innovation."
Visit www.epeople.go.kr, the online portal system that integrates petition, proposal, and policy discussion services operated by about 900 governmental organizations including central administrative organizations, local autonomous bodies and public institutions.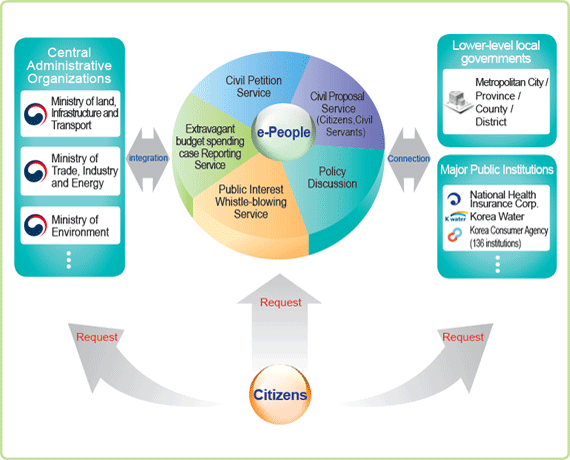 Do you have any complains or claims to the administrative organizations?
Do you wonder which organization can resolve your complaints?
Do you want to know how long you should wait until complaints resolved?
You no longer need to wander from place to place to file a petition.
Do you have a good idea about an unreasonable system or regulation?
Your creative proposal will be screened and reflected in government policies to modify unreasonable system.
Do you want to talk about the government's policies and measures?
Here, the public and the government can together make policies that people want through discussions on policies or laws.
[Public Interest Whistle-blowing Service]
We prevent acts that violate public interest and protect the confidentiality of whisleblowers according to the Whistleblower Protection Act when there are concerns about the possible violation of public interest.
[Excessive Budget Spending Report Service]
We prevent waste of taxpayers' money through improvements in measures or institutions by gathering people's opinions in regard to wrongful budget executions or suggestions for saving budget.